Packing an Emergency Bag: 40 Ideas to Get You Started
by: Brooke LaTurno, EIPA 3.8 - NIR Interpreter Coordinator
As interpreters, we must prepare for the unexpected. Given the unpredictable nature of our profession, where many factors are out of our control, we do our best when we turn our attention to the details that we can control. A well-equipped emergency or on-the-go bag can be a game changer, especially when we find ourselves faced with situations that were impossible to foresee at the beginning of our day.
When picking a purse or bag to use for your emergency supplies a washable fabric is ideal, especially if you will be bringing your bag into medical or k-12 environments. If you are unable to find a bag with ample pockets to fit your needs, try looking for a nondescript diaper bag. Diaper bags are typically designed to maximize storage capacity and can now be found in subtle designs that blend into the workplace.
Below is a list of items commonly found in an interpreter's emergency bag. Use this list as a guide when picking items that will be important to you to have available during an emergency. Keep in mind that some items may be more useful in one interpreting setting than another. That being said, you never know when a last-minute assignment will arise, or when you will find yourself in unexpected circumstances. Those are the moments when these on-the-go resources will really save the day.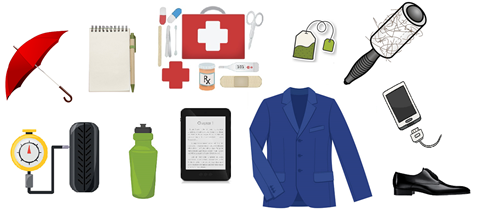 Agency specific
NIR Badge
NIR Business Cards
NIR Portfolio
Blank Verification Forms
RID Card
Clothing
Suit jacket

To avoid wrinkles, you may want to hang a spare suit jacket in a garment bag inside your car, instead of storing it in your emergency bag. The garment bag will protect your jacket from discoloration due to sun damage.

Closed toe shoes

Keep a spare pair in your car for hospital shifts. If you are concerned about germ contamination, store the shoes in the trunk of your car to change into and out of in the parking lot.

Full change of clothes

A back-up interpreting outfit is helpful to keep on hand in case you accept a last-minute assignment when out running personal errands, or if you spill your morning coffee on your original outfit.

Warm sweater
Rain shoes
COVID-19 specific
Solid-color face mask
Clear face mask
Clear face shield
General
Tissues
Pain medicine
Eye drops
Phone charger
Portable battery backup
Umbrella
Lint roller
Hand sanitizer
Deodorant
Travel toothpaste, toothbrush, and floss
Toiletry bag
Sunblock
First aid kit
Travel sewing kit
Non-perishable snacks
On-the-go meals

If you need to pack a full meal for an all-day assignment, be conscientious about the smells and textures of the food you pack. Those sensory elements will impact the people around you (especially when working with patients in a hospital setting).
When choosing which food to pack, be mindful of where and how you will eat your meal, depending on the setting you are working in.

Breath mints
Extra water
Reusable mug
Tea bag(s)/instant coffee
Pen and notepad
Cash
Vehicle specific
Tire pressure gauge
Air tire pump
Spare tire
Jumper cables/portable battery booster
Hazard triangles/flares
Roadside assistance membership (e.g. AAA)
The contents of each interpreter's emergency bag will vary depending on their specific preferences and as they learn more about their needs while out in the field. Despite this variance, we can benefit from sharing our favorite tools and insights with one another, to cultivate the best emergency resources.
So tell us, what is in your emergency bag? Is there an emergency item you depend on that did not make it onto this list? Please let us know in the comments below.
References
Mahoney, Sandy. (2015, April). Emergency Toolkit – What's In Yours?Presented at the 10th season of Nationwide Interpreter Resource's Food for Thought workshop series in Boca Raton, FL.